My Home Network
"EVERYONE HAS A RIGHT TO SAFE, AFFORDABLE, SECURE SUSTAINABLE HOUSING"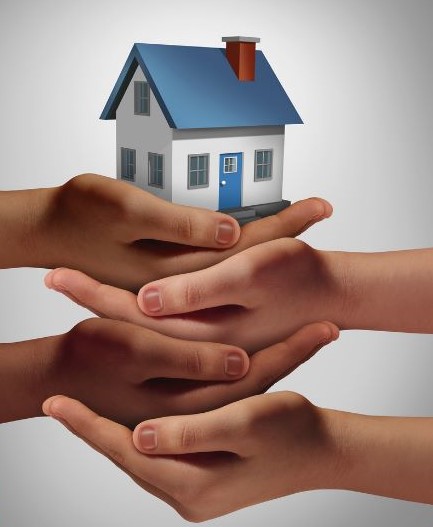 Mount Alexander Shire is in the midst of an acute housing crisis. There are 64 people experiencing homelessness(1) and over 200 families seeking assistance for housing crisis including women and children escaping family violence, people with disabilities, Indigenous people and our community youth and elders(2).
We have a shortfall of 100 diverse, safe and affordable rental homes(3), 589 social housing units(4) and much-needed crisis and transition housing.  Rental affordability is at a crisis point- 13.6%(5) and the mean house price in Castlemaine in June 2021 was $647,000(6), a 35% increase in one year.
We are hearing that increasingly renters are being forced to leave their homes away from family, support and community to find affordable rentals elsewhere. Elders in our community are faced with a lack of appropriate retirement housing or the inability to afford to downsize and employers say they cannot find workers partly due to the affordable housing shortage.
A range of factors is driving this crisis including, rents and housing prices increasing faster than wages, a mismatch between household size and dwelling types and insufficient government investment in social and affordable housing over many years.
This is compounded by the impact of COVID-19 where land and housing prices and rents increase to meet demand from new residents.
Homelessness and the risk of homelessness can profoundly affect a person's mental and physical health, their education, employment opportunities, and their connection to community and ability to fully participate in society.
My Home Network was formed in 2019 in response to increasing community concern about the lack of affordable, safe, secure, and sustainable housing across Mount Alexander Shire, and the resulting crisis of homelessness/being unhoused.
Facilitated by Central Victoria Prevention & Population Health (CVPPH – formerly Central Vic PCP), the Network is made up of local people with lived experience of housing crisis and homelessness, along with community members with significant experience and expertise in delivering social housing programs and a diverse range of housing networks and initiatives, community organisations and local and state government bodies including Castlemaine District Community Health (CHIRP), Haven Home Safe, St Vincent De Paul, Castlemaine Community House, Mount Alexander Shire Disability Advocacy Group (MASDAG), Mount Alexander Eco Housing Group, Mount Alexander Community Land Ltd, Mount Alexander Shire Accommodation and Respite Group (MASARG), The Castlemaine Institute and Mount Alexander Sustainability Group (MASG). My Home Network also works closely with Mount Alexander Shire Council (MASC) and is collaborating with the Nalderun Education Aboriginal Corporation, a local Aboriginal service that supports the Aboriginal community.
My Home Network advocates for a regional housing platform on common housing issues and local housing action, based on local housing needs and dynamics. This work includes greater housing support to vulnerable people in the community and increased and improved crisis, transition, social and affordable housing provision.
The work
The network is supporting MASC in its optimising opportunities within the Big Build Victorian Government Social and Affordable Housing funding and has the following working groups:
See links to some of the work in the side menu.
10-year Housing Strategy working group which has developed a MHN strategic plan and is also developing a MHN 10 year social and affordable housing strategy.  The group is also collating much-needed local housing data.
Tenants' Rights working group which has begun work to ensure tenants and real estate agents understand recent amendments to the Tenancy Act, which set new minimum standards for rental properties and strengthen tenants' rights. The group is also exploring the options of a not-for-profit real estate: HomeGround Real Estate and landlords/householders  providing board and lodgings to home sharers in return for practical assistance –Homeshare.
MHN is currently seeking funding to set up the Home Share model after encouraging results from a community survey scoping potential housing stock and interest from potential landlords/householders and home sharers
Click here to download information and a survey scoping housing stock and interest in these initiatives.
Communications working group which is developing a communications strategy and community engagement strategy
Real estate/developers/private sector/accommodation providers working group which is engaging with this private sector to explore different affordable housing options
Advocacy working group which is advocating across all levels of government for safe, affordable, secure sustainable housing for everyone
Expert reference group which magnifies the voice of lived experience and informs all aspects of our work
How to get involved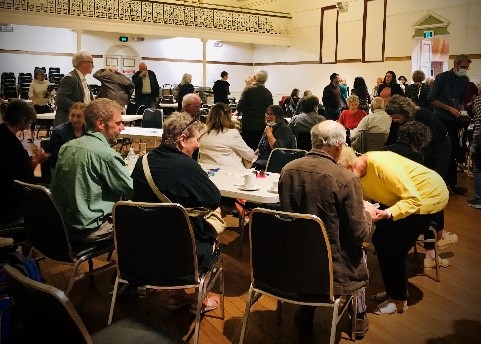 If you want to help everyone across Mount Alexander Shire to have access to affordable, safe, secure, and sustainable housing, you can:
join a My Home Network working group
sign up for the My Home Network email list
discuss the potential of donating or selling land to the above housing projects
consider listing your rental property with a not-for-profit real estate and/or being a householder or home sharer in a Home Share model
assist in community responses/supports for those in housing crisis eg finding interim accommodation, providing meals and assistance with moving house
To assist in any of these ways, please contact Kaz at carolynneilson@bendigohealth.org.au
References
https://quickstats.censusdata.abs.gov.au/census_services/getproduct/census/2016/quickstat/LGA25430
Castlemaine District Community Health.Castlemaine Health Housing Team, April 2021
A Castlemaine Real Estate agency, June 2021
Mount Alexander Shire council SGS Economics and Planning Social and Affordable Housing Issues Paper, 2019
Homes Victoria Rental Report, June 2021 quarter
Victorian Property Sales Report, June 2021 quarter, Victorian Government, Department of Land Water & Planning (DELWP), 2021
Acknowledgements
We acknowledge the courage and generosity of local people with lived experience of homelessness and housing crisis in their sharing of their stories so that we can improve housing outcomes for our community.